Gumboot Tango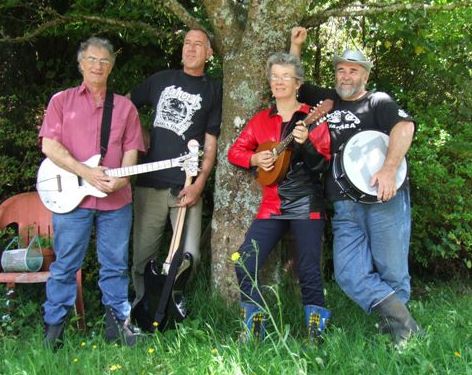 Kiwi songs from rustic roots to big smoke blues. The 'Tango, Mike Harding, Janet Muggeridge, Steve Muggeridge and Wayne Morris, celebrate New Zealand songs and songwriters with a farmyard-infectious humour guaranteed to put a smile on your feet and the swing back in a Taranaki Gate.
Live in concert Gumboot Tango present songs that tell something of New Zealand's special heritage, from the daggy and quirky through classic pop and rock to original songs, some written by the late Alan Muggeridge, founding member and inspiration to many local musicians.
Since forming to record and perform Taranaki songs for the 1995 Taranaki Festival of the Arts Gumboot Tango sightings and soundings have included the Beehive (their first gig), WOMAD '99, Auckland, Hamilton and Wellington folk festivals, and more recently the Second Annual Great Urenui School Possum Hunt.
Gumboot Tango - an earthy yet sophisticated musical experience.
Recordings: "Rubber Sole" C.D.