Performance
Since his 1985 solo "Time on the Road" tour, Mike has taken exclusively New Zealand concerts to all centres and corners of the country and parts of Australia and Europe, engaging audiences with a show that celebrates the familiar.
Mike is at his best in an intimate, acoustic setting where affectionate humour and spontaneity are guaranteed and where his pre-song, scene-setting can be fully enjoyed.
In a typical performance, Mike will call on songs from or about the past, folk-songs from the days of the European explorers and settlers through to the present, including the work of contemporary rock songwriters.
Recent tours have been built around three themes:
Past to The Present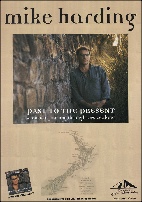 A musical journey through New Zealand, north to south, past to the present, telling the stories of people and places along the way. Based on selections from the Past To The Present CD.
Down The Hall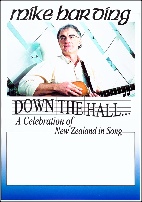 A celebration of New Zealand in song, calling on the lighter side of our folk and popular song heritage. A performance featuring quirky Kiwi humour and a bit of nostalgia for a recent past as experienced by Mike in his 1950's and 1960's upbringing in Eketahuna.
Kiwi love songs, pop songs
Pub songs, dog songs
Train songs, sea songs
Farm songs, city songs
Sad songs, light songs,
Down-the-Hall-on-Saturday-Night songs.
Here We Have A Land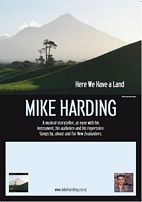 Songs from Mike's most recent C.D., from early songs of immigration through to his best original compositions.